Area of ​​the Island: 10,139.3 ha or approximately 100 Km²
Composition of the area:
35% of Mangrove
23% of Mata
20% of Fields
12% of Dunes
10% of salted
Location: Northeast Brazil
Climate: hot and humid (2 well defined seasons - one rainy and one dry)
Annual average temperature: 27º
Specimens of Fauna:

The Ilha do Caju
In the center of the Island are the fields with the cashew trees, partly natural and partly planted.
From there came the name: Ilha do Caju
The Jesuits, before leaving the Island, would have buried there a magnificent treasure, which until today no one has been able to find it.
But the gold has gone, the majestic nature of Ilha do Caju has been maintained as an ecological sanctuary by the effort and dedication of a family of English origin, who has been in possession of the Island since 1847, preserving a rich treasure there.
Five complete ecosystems integrate the ecology of the island: mangroves, dunes, forests, fields and salt water floods. This variety makes it not only a paradise of ecological tourism and adventure, but also a privileged place to know, in a relatively small area, a whole synthesis of the Brazilian geography.
RPPN - Ilha do Caju (Private Reserve of Natural Heritage) - 102 ha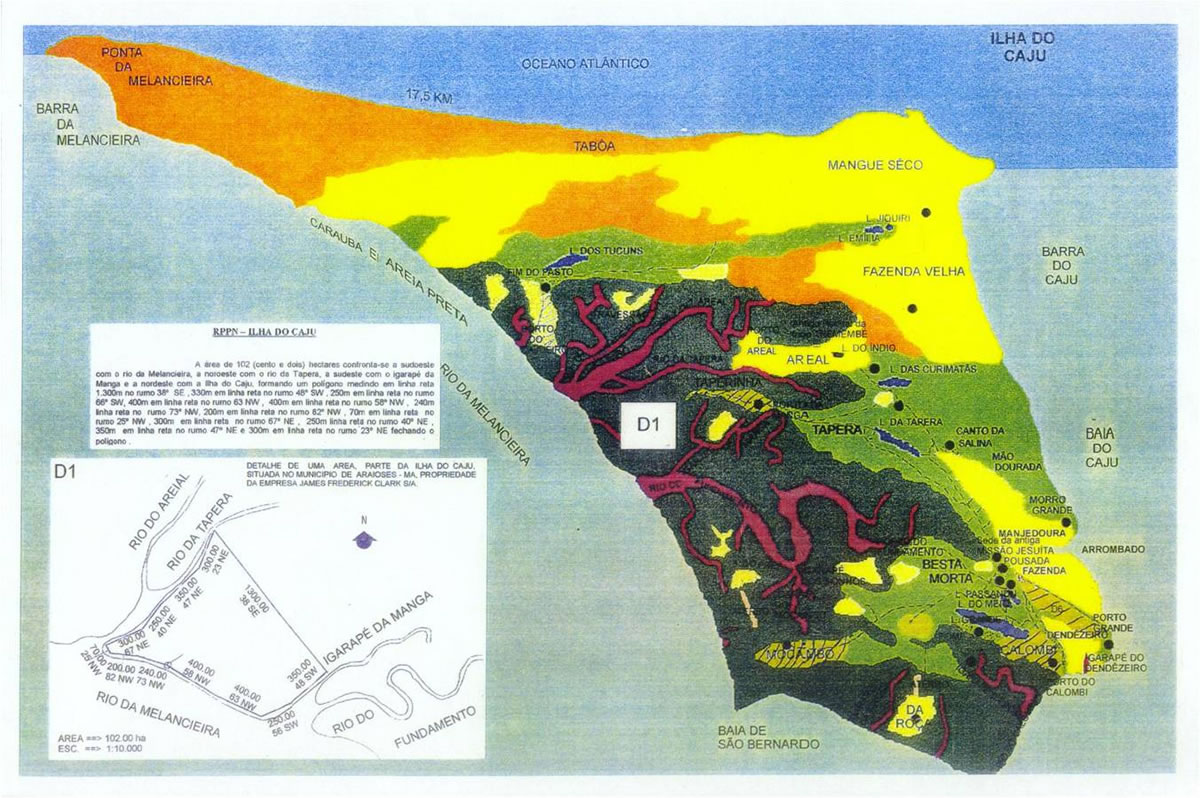 What is a RPPN?
Private Reservation of Natural Heritage, or RPPN, is the name given to a private property that, due to its biodiversity or landscape aspect, is declared a "nature conservation area", perpetuated by IBAMA - Brazilian Institute of Environment and Renewable Natural Resources through SNUC.
The willingness to protect is the starting point for the owner to ask Ibama that their lands be destined to full protection. In an RPPN only activities of ecological tourism, environmental education and scientific research can be developed, which do not compromise the ecological balance of the existing species.
Incentives for the creation of a private reserve of natural heritage are:
- ITR exemption for declared area
- Financing of projects through the national environment fund
- Priority in the granting of agricultural credits
- The area can never be expropriated for social purposes since it already fulfills its role with environmental protection.
Every RPPN must have a management plan, that is, a technical document that defines how activities should be developed to ensure the conservation of biodiversity. In order to elaborate a management plan, one takes into account the Methodological Roadmap for Planning for RPPNs elaborated by IBAMA.
Necessary requirements for an area to be recognized by IBAMA as RPPN:
- There must be a public interest and this means that primitive, semi-preemptive, recuperated natural conditions are identified, or whose characteristics justify recovery actions, due to their landscape aspect, or to the preservation of the biological cycle of native fauna and flora species in Brazil.
- Within the RPPN one can do research and practice low impact tourism, which would be ecotourism, but always under the guidance and support of IBAMA.
- The RPPN is recorded with perpetuity ie: will be recorded in the margin of the Registration in the competent Real Estate Registry.
* Tax exemption = ITR (Rural Territorial Tax).