By plane: The city of Parnaíba has an airport that can receive large airplanes, but currently only the company Azul operates on regional flights according to the table below. The airport also receives small aircraft, such as: Cessna, helicopters and etc. The nearest capitals with flight service are Teresina (PI) 340 kilometers, São Luís (MA) 526 kilometers and Fortaleza (CE) 480 kilometers. Flights from other capitals go down in Teresina.

By car: from Teresina (PI), take the BR-343 to the city of Parnaíba. From Fortaleza (CE), access is made by CE-085, known as Estruturante. From São Luís (MA) to BR-402.
By bus: there are daily departures to Parnaíba from Fortaleza, São Luís and Teresina.
Access to Ilha do Caju is by waterway only:
From Parnaíba: approximately 80 min by speedboat.
From the Tatus Harbor in Ilha Grande: 50 minutes by speedboat. Approximately 3h of barge.
From Tutóia: 40 minutes by speedboat. Approximately 4h of barge.
Ilha do Caju is located in the municipality of Araioses-MA, in the Delta of the Parnaíba River, 50 km from the city of Parnaíba.- LAT.: 2º 44′ 59,4″ S / LONG.:42º 2′ 31,8″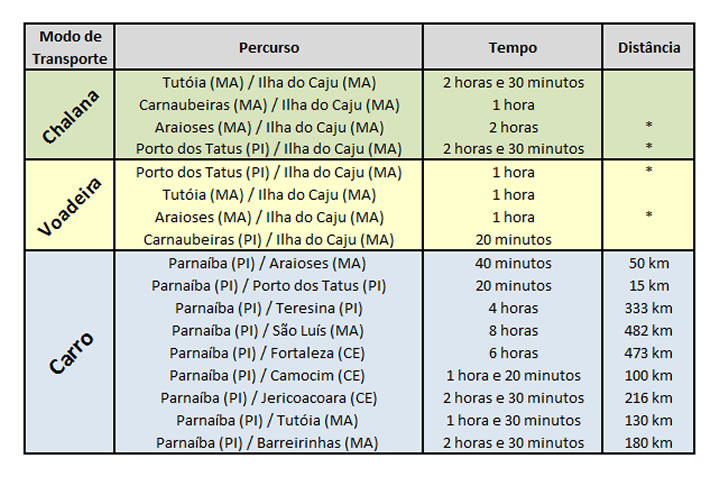 *depends on the tide
** 4x4